| | |
| --- | --- |
| 2018 SPRING MEET BELOIT, WI REGISTRATION FORM Including Hotel Information | |
---
ATTENTION MJA MEMBERS

On June 10, 2017 at the Colorado Spring Meet the Governing Board of Directors vote to increase
the annual membership dues $5.00 to $30.00 per year. The last time our dues were increased was in 1994 when they were $15.00 and increased to $25.00 for 1995.


On September 8, 2017 at the New Ulm, MN Fall meet the Governing Board of Directors voted to offer a choice on how members can receive the monthly newsletter. Aside from receiving the newsletter by regular mail the Secretary shall offer the members the option receive the newsletter by electronic service ( Pdf file via the internet). This method will have many advantages for both the club and the members. It first will provide the Secretary with a group of email listings of members who have signed up for this method to make important announcements about club members or other club associated announcements directly to them. Your email address will remain private and will not be shared with anyone.


The e-newsletter will contain color everywhere it is used unlike the print publication (only front page). This will include advertising ads, color for sale ads, all color photos of meet activities. The snow-birds will not have to make arrangements to forward the newsletter. For your spouse, there will be no more old newsletters laying around your easy chair anymore ! All in one location …….on your computer.


This announcement will be repeated in the November Newsletter where you will be able to make your choice and send in your dues payment.




---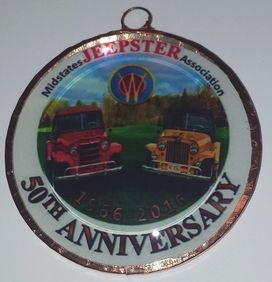 .

---
50th Anniversary Suncatcher Medallion still available for sale $18.00 ea includes shipping

contact: Cleo Betts 574-361-2025

---
MERCHANDISE AVAILABLE
contact Merchandise Sales Mgr. Morris Quillin 308-390-1314 or quill66@kdsi.net
---